EXPLORING THE FLAVOURS OF MEXICO: FINCA LA RIOJA
José María Pascacio Muñoz is an articulate man in his late 30's with a soft voice and kind demeanour. He graduated from university as an Industrial Engineer but since 2012 is fully committed to cacao and to restoring his great grandfather's heritage. With great pride and love, he recounts his family history in cocoa. 
His great grandfather Moisés Mugüerza Gutiérrez migrated to Cacahotán in the early 1900's from La Rioja, Spain. He named his hacienda in honour of his birth region. Don Moisés as he was known by the locals, introduced cacao trees to his plantation after a visit he paid to the island of Trinidad. He was captivated by the crop and decided to import criollo genetics from Guatemala, Belize and other parts of Mexico which he reproduced at the Finca's own nursery.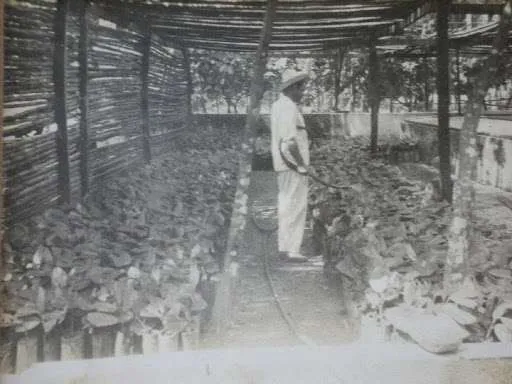 Photo: Courtesy of José María Pascacio; a worker at the original Finca La Rioja at their nursery in 1929
Even though big parts of the Finca, including the nursery, had been expropriated during the Agrarian Reform of Álvaro Obregón, don Moisés continued to produce coffee and cocoa on the remaining part of the property. Finca La Rioja gained recognition for its excellent cocoa and was awarded  the Primer Premio (First Prize) at the National Agricultural Exhibition organized by the Mexican Ministry of Agriculture on several occasions.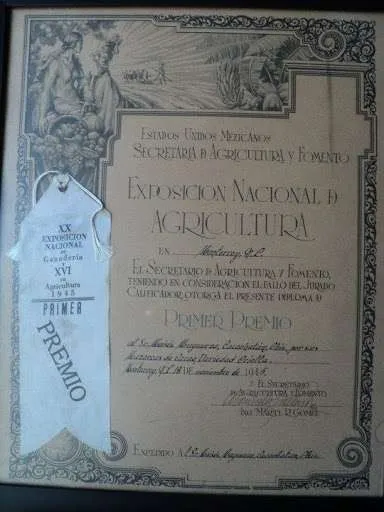 Mr. Mugüerza Gutiérrez bequeathed his beloved Finca La Rioja to his family. The land was divided into smaller portions, one of them keeping the original name of La Rioja and the others getting a new name – including La Plata.
When José María decided to focus his efforts on the 10-hectare family plantation, it had long been left idle. He introduced new genetics, built a new nursery and rebuilt the fermentation facilities. He was determined to improve, to learn and to find new markets for his cocoa. He adopted an agroforestry scheme and left parts of the land to forest regeneration. 
When he reached out to Daarnhouwer in 2015, we were coincidentally looking for new sources of Mexican cocoa. The careful wording of Jose Marías e-mail and a brief recount of his story caught our attention. Some days later we were talking on the phone.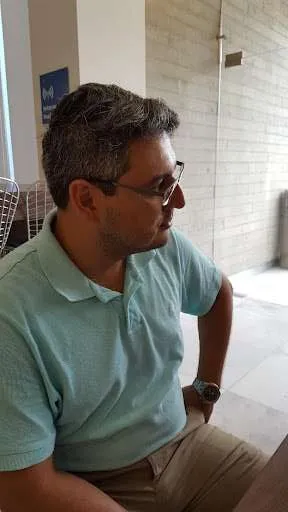 José María in November 2016 in Tabasco at the Festival del Chocolate where we met in person for the first time. We introduced him to fermentation expert Zoi Papalexandratou who very kindly tasted his samples and gave him very valuable feedback. José María and Finca La Rioja have been dedicated from the very beginning to improving and maintaining the quality of their cocoa.
Weeks later, the first sample from Finca La Rioja had arrived. And it wasn't great, but it had potential. We discussed where it needed to be improved and how it could be done. Samples with adjusted protocols kept coming. We were learning together. Many trials and several months later, we were finally satisfied with the quality of the cocoa.
With great excitement and some apprehension, we bought all 600 kg of his crop. I remember driving to the port of Amsterdam. I couldn't wait to welcome the bags to the warehouse. The bags had arrived in impeccable condition!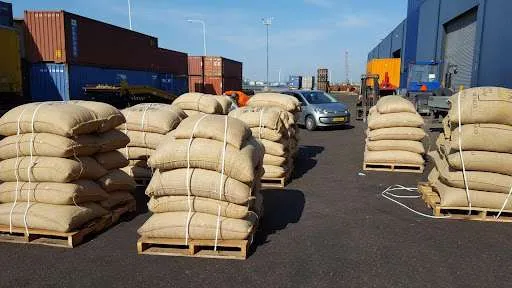 The very first shipment of Finca La Rioja which arrived in 2016 to Amsterdam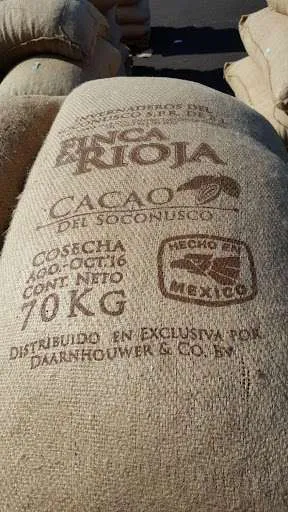 The very first bags of Finca La Rioja
We offered the beans to chocolate maker and champion pastry chef Herman van Dender in Belgium. He was looking for exciting flavours for his chocolate lines. We told him the story of Finca La Rioja and José María. And how he was also part of the long history of cocoa in the region of Chiapas and Cacahoatán. His reply? "I want it all." We asked him whether he wanted to check the samples first. His reply? "No need to." We were so excited!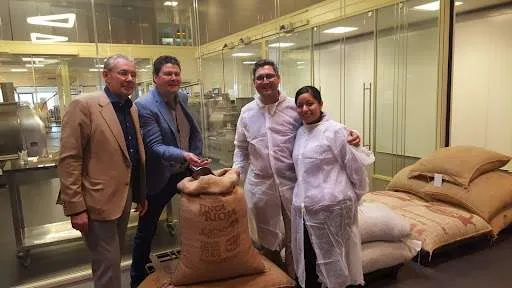 José María and his wife Angélica visiting Herman Van Dender's chocolate factory in Brussels. Van Dender produces couverture and bars from Finca La Rioja cocoa beans. To their left is Peter Goossens, one of Belgium's most renowned chefs, known as "The Godfather of Belgian Gastronomy". Chef Goossens is the creative and visionary talent of restaurant Hof van Cleve, which boasts 3 Michelin stars since 2005. The restaurant has used Finca La Rioja couverture for their award winning dishes.
Ever since, José María and Daarnhouwer have been working together to promote Mexican cocoa and Finca La Rioja in Europe. 
It hasn't been an easy journey, but Finca La Rioja now enjoys the name recognition it deserves. And Jose Marías hard work, passion and perseverance have been most recently recognized at the 2021 of the Cocoa of Excellence Awards in which his cocoa was awarded Gold and thus recognized amongst the 50 best cocoas produced in the world. 
The year 2022 has proved to be a challenging one for Finca La Rioja as the harvest for the first half of the year was affected by frosty pod rot (moniliasis). Through hard work and best practices, the Finca has been able to control the disease. José María and his team are currently focused on the upcoming harvest. They are also preparing new types of cocoa:  Finca Las Brisas and Baja Huixtla. 
After the setbacks of the first half of 2022, José María is ready to make his first shipment of the year. If you would be interested in trying his new types or reserving part of the new El Vado shipment, please don't hesitate to reach out to us at: cocoa@daarnhouwer.nl 
Otherwise, keep checking our Cocoa Boutique for our newest arrivals: https://daarnhouwer.com/cocoa-boutique/
Listen to Jose Maria's story and take a look at the Finca on this video produced by La Rioja: